Camping at Crescent Bar, WA
Crescent Bar is a small island along the Columbia River near Quincy Washington that serves as a great place to play in the water and explore the surrounding areas for hikes, biking, and other recreation. Originally the location of a ferry, Crescent Bar is now home to condos, a couple of campgrounds, a golf course, and of course a boat launch and beach for playing on.
I cruised over to Crescent Bar in early 2021 in Leif the Adventure Van, when visiting the area to do a trail run in the area. Here is my breakdown on scoop on camping at Crescent Bar.
Where To Stay
If you are staying on Crescent Bar proper, you will likely wind up at the campground (https://www.crescentbarrecreation.com/). This is a seriously well-maintained property with 55 campsites, and it is clearly designed with people that have RVs and boats in mind. They allow ample parking at each site, have a designated pad for tents, water and power hookups, and a fire ring. The bathrooms are clean and bright and there are showers, which we were grateful for after our run.
If you are a Thousand Trails member, there is a RV resort there as well. https://thousandtrails.com/washington/crescent-bar-rv-resort/
There isn't any dispersed camping down on Crescent Bar, but if you do some looking there are some dispersed camping areas in the vicinity, but nothing super close. The best free option for camping would likely be out at Ancient Lakes or at Douglas Creek.
My suggestion is that you take a look at your favorite camping app and see what might work for you. I prefer The Dyrt for finding free camping spots. That is an affiliate link BTW, so I do get a little kickback if you sign up for a PRO membership, which I suggest by the way. Now not because I get coffee money from that, but because at ~$35 a year, all it needs to do is find you one free camping spot and it pays for itself.
Crescent Bar, Quincy WA Map
Things To See And Do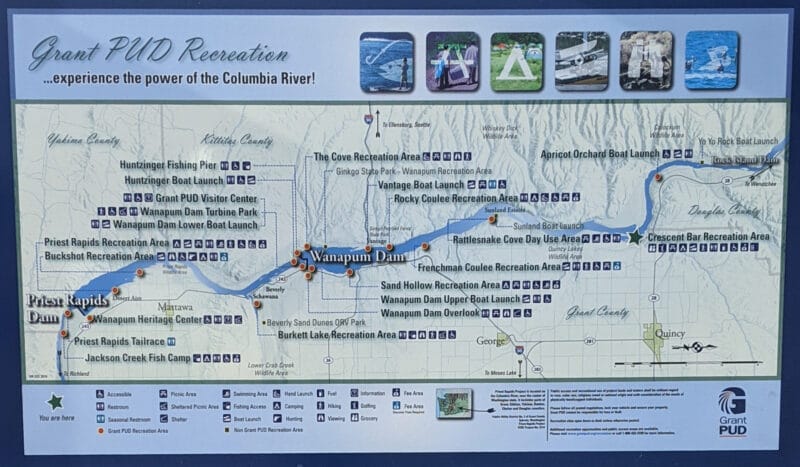 Boating, Skiing, and Playing in the Water
Right off the bat, one of the most obvious things to do at Crescent Bar is to go boating. There is a big, nice boat launch right there and there is of course a bunch of open water to play on and in with Lake Wanapum/Columbia River. There is also plenty of room to just go play in the water, especially at the beach next to the boat launch.
Golfing
If you are a golfer, there are two courses in the general area. Crescent bar is right at the end of the bar and then there is Colockum Ridge, up on top of the hill out south of Quincy.
Hiking and Biking Trails
There are a surprising number of hiking trails in the area. Most of the time when people mention hiking, I think of hoofing it up a mountain trail, nestled in trees, but central Washington has some amazing hikes as well. My original reason for coming to the area was to do a trail run on the Ancient Lakes trails. While it may seem barren, slow down to really look at it, and there are some wonderous things to see.
I'm particularly fond of the geology, and the waterfalls that cascade down some of the vertical rock faces. It is amazing to me to think that the entire region was repeatedly covered in lava hundreds of feet deep, then had channels scoured out by massive floods of water from ice dams breaking at the end of the last ice age.
In addition to all that, in the spring there are flowers blooming as all sorts of plants getting their growing in while the weather is warm, but the ground hasn't dried up yet.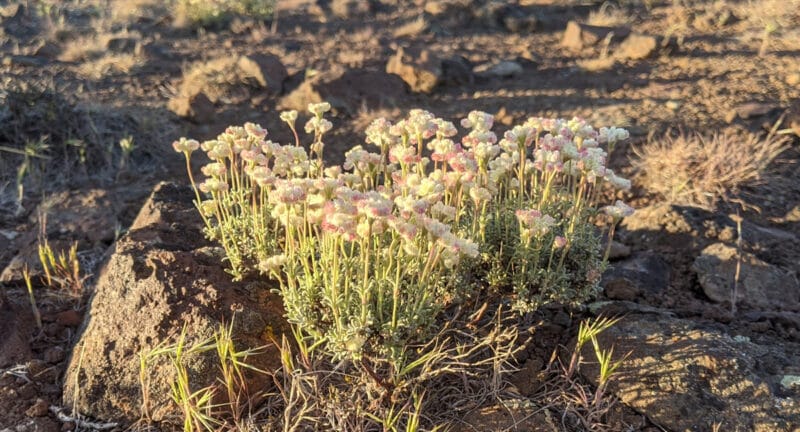 If you are hill adverse and tired of doing 2000′ of elevation gain on your hikes, then you really want to check out the trails surrounding Crescent Bar. Few have more than a couple hundred feet or elevation gain. Though to be aware that some of the slopes are loose rock and there are plenty of trip hazards. Trust me on that one.
Crescent Bar Area Hikes
Places To Eat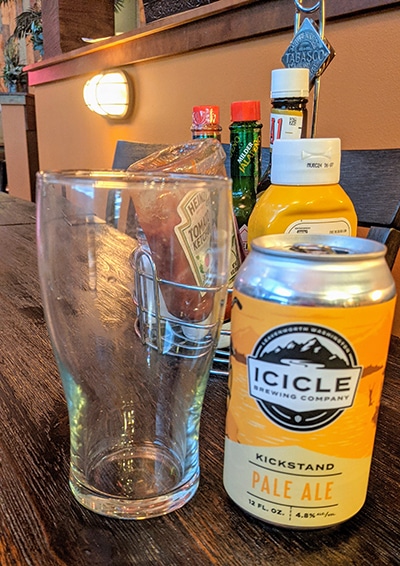 You will be a little limited on places to eat if you are staying down on the Crescent Bar. I'm going to guess that part of the reason for that is that most of the people there are living in RVs that cost several times that of my first house. Without getting up and away from the river, your choices at the time of writing this are:
Sunfire grill is the resort restaurant and bar, and it is fairly nice, but I can see it getting really busy in here during the summer. A group of us dropped in for dinner before I doing the Ancient Lakes 25k and the food was good, and the service was about as good as one could expect coming out of Covid. Let's be honest, service everywhere went to hell during 2020.
Overall, I'd have to say the Sunfire grill is about halfway between snobby resort bar and a locals bar, maybe leaning towards the the snobby end a bit. But it is clean, the food was good and not particularly overpriced.
Post-race, my running buddy and I needed food so we ordered up some pizza from Tower Pizza and then sat around the fire drinking, to prevent soreness due to muscle fatigue. I have to say that I was really surprised at how good it was. The crust looks to be made in-house, and the toppings were decent quality. All in all, it is top-notch.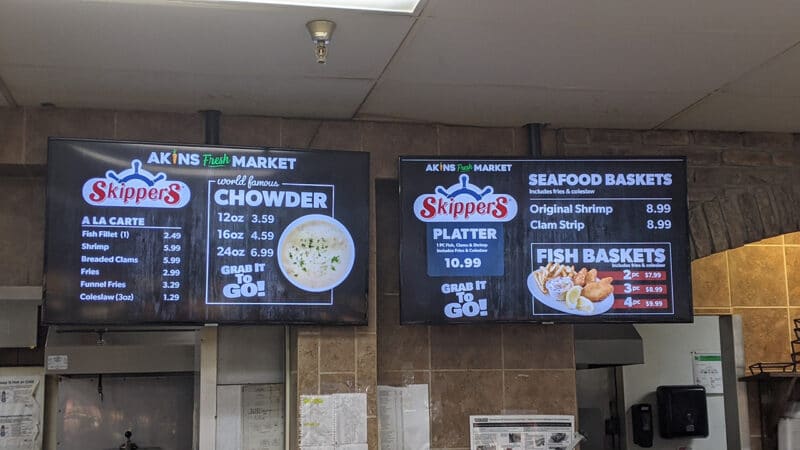 If neither of these is to your liking, you can always cruse up into Quincy and find a smattering of other places to eat. I even managed to find a vestige of a Skippers restaurant hiding inside the local Aiken's Grocery store. That was a very odd find. I thought they had all vanished. Sadly without an all-you-can-eat option, I had to pass.