I've met a few "one street towns" in my life, but very few "two street" ones, but that is what you get in Ocean Shores Washington.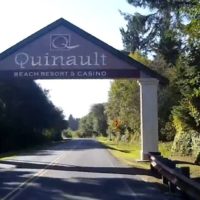 Needing a place to get away for our anniversary that was not close to home, but not an airplane ride away, I presented Jacquie with a list of possible locations along the coast of Washington. All were drivable and something attractive. Four were small resorts either along the coast or in the rain-forest, and the last was the Quinault Casino at Ocean Shores.
Jacquie is much more of a go to the spa and relax type person so to Ocean Shores we went. Departing Seattle, the roads progressively get smaller and you realize you aren't in the proverbial Kansas anymore, especially if you take the side road cut-offs that Google routes you through.
We actually didn't stop first at Ocean Shores proper as the Quinault is actually just a bit north of downtown proper. Cruising down that rural highway, the casino reader board's LED glare stands in stark contrast to the trees and salt marsh it is surrounded by. That the area is just a little different was heralded by the 21 MPH speed limit signs as we crossed the causeway into the casino proper.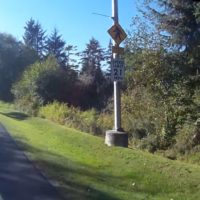 If gambling is your thing, then the casino is definitely your stop in Ocean Shores. For tourist type attractions though, it is a quick drive into downtown. As we were visiting in late September we expected things to be fairly sedated, but even at this late point in the year, the town was still quite busy.
Regardless of where you travel, food is always a focus. After destroying the crab at an otherwise unremarkable buffet at the casino the night before, we opted to skip breakfast and for an early lunch in town before exploring. Our choice was Galway Bay Irish Pub because who doesn't start out the day at a pub right? And an Irish pub in a dot of a town on the Washington coast? Sure why not?
I don't consider myself a foodie by any means and can't tell you if my coffee is sourced from Columbia or Venezuela. In no way do I pride myself on my palate and being able to discern free range, grass fed, organic Bolivian beef from a top quality Texas steak. What I can tell you is when food is good. As Irish food goes Galway's is so far the best that I've had.  I'll spare you the detailed descriptions of the food, but trust me, if you are in Ocean Shores, stop and eat there. Their Black and Tan onion rings are literally the best I've ever had.
Beyond eating, there are two other main attractions in Ocean Shores. One is, of course, the beach. Lots and lots of beach. Swimming here though wouldn't be my #1 pick of things to do. While there are miles of sandy beaches, they are all exposed to the Pacific Ocean, the water is cold and the currents can be fierce. Some splashing in the water's edge, or some boogie boarding maybe if that is your thing, but actual swimming personally I'd pass on.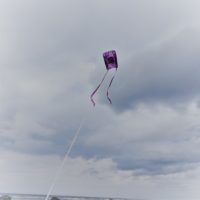 Kites are a big thing on the coast. The abundance of shore and wind makes it a perfect place to hang out and play. Bring your kite and if you don't have one, visit Ocean Shore Kites on Chance a La Mer. They have kites for every budget and skill level in there. Want to spend $1,500 on a monster kite? They have 'em!
Clamming when the Razor clam season is on is a major event, and while it wasn't going on while we were there this time, it is something else altogether. If digging delicious clams is on your list of fun things to do, watch for postings for razor clam digs and get out there with your clam gun.
Shopping in Ocean Shores
The other big attraction in any tourist town is shopping. Ocean Shores's two main roads of Ocean Shores Blvd and Point Brown Ave make up the core of the dining and tourist shop zone. If you are going to go hardcore on the shopping, you might consider renting an electric bike or a scooter for getting around. Parking areas in Ocean Shores are not huge and even in late September, we struggled to find parking in a few spots.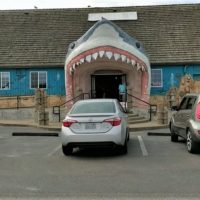 Many of the shops carry the same assortment of Chinese wooden signs with whimsical sayings on them and shot glasses with poorly done artwork. Searching around though, you can find a few stores that have a more local bent. Granted a few of the vintage shops look more as if they were stocked with items from local garage sales, but to some degree that adds to the charm.
If quieter and away from the crowds is more your thing, there is the 683 acre Oyhut Wildlife Recreation Area at the south end of the peninsula. We ran out of time to wander through, but I'd definitely like to spend a day wandering around checking out the sea life and birds that make it their home. I'll make that a whole separate trip.
Our last night we finished up at the nicer restaurant at the casino for a romantic dinner looking out over the water. Our mistake there was not timing dinner with sunset because the best view in the house was pretty much of the dark outside. But I digress. Food, as I mentioned, always seems to be a topic when traveling, at least for us and again, the food at the casino was just OK. But then I was rocked out of my seat.
We had finished our meal and were doing dessert, which I honestly expected to be something that they got in frozen as more places do. What was set in front of me was the largest brick of cheesecake that I've ever had the opportunity to tear into. Effectively it was almost a 3″ cube of cheesecake with berry sauce. That, if anything was the shining star at the casino.
Visiting Ocean Shores
Wrapping all this up, my advice for visiting Ocean Shores is to definitely give yourself time to take in everything and make sure you eat at the better rated local restaurants.
For accommodations, there is a wide range of places to stay. From smaller B&B style properties on up to more modern hotels like the Quinault. Choose the style that fits your taste. If you can though, get an ocean view room!
Personally, I'd make a long weekend of it and spend a day on the beach, one day shopping and one wandering the nature park.  There are a variety of events that go on every year so if that vibe is your thing, you may want to time your visit to one of those. Ocean Shores actually has a convention center and holds some interesting events such as UFO and Bigfoot summits.
As for me, I'll be back again, likely in the spring to check out the wildlife and parks this time