Yes, it is the Fremont Oktoberfest not Octoberfest!
Every Fall, beer lovers at the Fremont Oktoberfest and at festivals across the globe, pause from their busy lives for a couple of weeks to give thanks to Crown Prince Ludwig for marrying Princess Therese of Saxony-Hildburghausen on 12th October 1810. The Prince was nice enough to invite everyone to the festivities (drinking) and it became an annual event dubbed Oktoberfest. I can only assume that lots of beer was consumed at that first party considering it was in Bavaria.
Now each year millions of people across the globe raise their beer glasses high, celebrating BEER! Glorious, glorious BEER!
In that tradition, every fall the Fremont Chamber of Commerce puts on the very cool Fremont Oktoberfest with brewers from across the region (and country) attending and representing their particular brewed craftings. This year there were over 40 breweries in attendance at the beer garden and I did my best to sample them all.
Something to Drink for Everyone at Oktoberfest.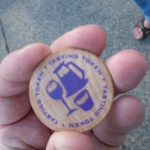 I attended the Fremont Oktoberfest with my good pal Thomas who likes his beer dark. I on the other hand am much more wussy and prefer a tasty blonde or amber ale. The up side of this is that we rarely poach each other's beer and that we can sample just about all the beer that we wanted to.
After using up a pocketful of tasting tokens, I don't know that I can pick out a decided favorite at this year's Oktoberfest, but I am leaning towards Blue Moon's private reserve blonde which isn't on the list of featured beers, but was there and was yummy!
Honorable mention also goes out to the Woodchuck Hard Cider for both their Amber and Granny Smith Hard Ciders. They were a great way to lighten things up after filling my belly full of beer.
Forgot to Eat Before Going to Oktoberfest?
Food wasn't lacking at this year's Fremont Oktoberfest either. The favorite of course was the German Wiener stand offering up a selection of meaty products. How much more perfect of an afternoon can you get when you are outdoors on a pleasant Fall afternoon munching a spicy bratwurst with sauerkraut and sipping cold beer?
There were some other stands as well, and I am sure their food was fine, but there is just something about brats and beer that just screams Fall and drinking. May be next year I will try the pulled pork… Ok, probably not.
One tip for you if you are ever ordering baskets of fries like they were serving there. Make sure you ask for them well done! I have noticed that when people cook up whole baskets of fries they tend to be a bit underdone. Tell them to crisp them up and they are MUCH better!
What Could Make Oktoberfest More Fun?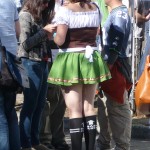 How about girls in costumes? Friday night features the Buxom Royalty Contest and while it is fun to see the guys dressed up in their traditional German drinking gear, we all know that we attend to see the girls showing their cleavage.
No, I wasn't there Friday night to get pictures, but there were still a good number of people in various attire when we were there Sunday afternoon thanks to the Brew HA-HA of a Run 5k and street scramble.
What sort of insanity is it to back up two nights of drinking with an early morning 5k on Sunday? Someone has a twisted sense of humor. But at least the Brew HA-HA of a Run finishes right at the entrance to the beer garden so there is plenty of cold beverages to relax with.
Fremont Oktoberfest 2012
Gotta say that I am ashamed that I didn't get down to Fremont on Friday night for the big party, but there is always next year. In fact there is some plotting to arrange an RV for our crew to hang out in before/after the party. Plus you can expect me to show up at the Brew HA-HA of a Run as well, though don't get too hopeful of seeing me in Lederhosen.