Heather Lake in Washington state is easily one of the more popular hikes to one of the Northern Cascade's pristine alpine lakes.
Part of its popularity is that it is only 2 hours from Seattle on the Mountain Loop Highway, and is relatively short at about 5 miles, with only ~1,500 feet of elevation gain.
Pass for Heather Lake
Before you head out, be sure that you have your Northwest Forest Pass. You will need one of these for parking at the Heather Lake Trailhead. If for some reason you don't have one, you can pick them up at a lot of places, including REI, online, and of course ranger stations. On the way out, you can pick one up at the Verlot Ranger Station.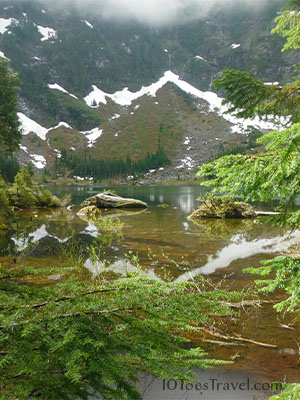 Getting to the Heather Lake Trail
Google will do a great job of getting you out to the Heather Lake trailhead. A mile after the Verlot Ranger Station, you take a right onto Pilchuck Access Road, FR 42. From there, get ready for a rough, often crowded drive. The road up is generally pretty bad with potholes that could eat a smart car. On top of this, the road is not wide and busy, so you will likely have to dodge cars coming down the road as well.
Heather Lake Trailhead
There is a small parking lot at the trailhead, but if you aren't there early, it will be full. Be prepared to have to park alongside the road before and after the parking lot. Be sure to get fully off the road if you do. I've literally driven through the area, thinking I was going to hike there and decided not to because the parking was so bad.
As for facilities, there is one concrete outhouse and some trash cans. Don't expect them to be in great condition, and bringing your own toilet paper is my suggestion.
Heather Lake Trail Conditions
Despite the relatively easy-looking numbers, I would easily consider the Heather Lake trail as moderate. The trail has its share of roots, rocks, big steps, and of course marshy, wet spots. When I hiked it in April, the trail was still quite muddy.
Personally, I would only think about bringing kids on this hike if they were very used to hiking and scrambling their way up trails. If you think you are taking a stroller, up it, be prepared to lift it up and over obstacles.
This being all said, once you manage the climb to the lake, the trail becomes much easier, and in fact, the trail that circles the lake is mostly a boardwalk that is in good condition.
While I haven't hiked Heather Lake in the winter, it very much is, depending on the snow levels. You may want to pack microspikes and some snowshoes though.
Can You Camp at Heather Lake?
While there are limited options for camping at Heather Lake, there is a smattering of campsites along the trail as you reach the lake. There is a box toilet, but do practice leave no trace. There are no campfires allowed in this basin, so bring your camp stove if you want a hot meal.
You can Fish Heather Lake
Heather Lake does have a population of trout, and you can catch them. Most are less than 12″ long and in these cold alpine waters, you are unlikely to land a monster. The biggest issue is that the shores are very shallow (and muddy) so to effectively fish Heather Lake, you really need some sort of flotation device.
Be sure to check the WDFW for seasons, rules, and all the other rules for fishing here.
Tips on Hiking Heather Lake
Despite the fact that the trail isn't easy, and the trail is very often busy, Heather Lake is absolutely worth the effort. The views inside the valley are stunning and the lake is crystalline.
My best tip for hiking the Heather Lake trail is to plan a solid 2 hours plus whatever time you want for sitting on a rock, eating lunch, and staring in awe at your surroundings. Be sure to bring bug spray because once things warm up in the spring, the mosquitos will be out.
Additionally, go mid-week or at the very least, very early on the weekends if you want a parking place and to not have to fight for room on the trail.
Lastly, if you really want to make the world a better place, take a garbage bag with you and pick up trash as you head down the trail.
Do that and you will have a much better time than Mila M that posted this "One-Star Reviews of National Parks" type review of the Heather Lake Trail on TripAdvisor.