Straight out of one of the recent boxes from Cairn, comes the Humangear GoBites Duo review.
I have a ton of different utensils for eating on the trail but I was headed out in the adventure van and knew that I didn't have any clean utensils to eat with in it.  So I grabbed the GoBites Duo that showed up in one of the recent boxes from Cairn and put it to the test.
In case you aren't already aware the GoBites Duo are made from nylon that is  BPA-free, PC-free, and phthalate-free not that I'm insanely paranoid about that with a spoon and fork that I use infrequently. My food storage, that is a different matter.
If you are too lazy to watch the video, here are the highlights.
---
Pros
Lightweight
Parts snap together to avoid getting separated
Locks together to make a long spoon/fork
Relatively inexpensive
Cons
Knife edge is good for soft food only
---
For me, the knife issue is not a big deal. I always have at least some sort of knife with me, usually my Spyderco Endura which I carry basically everywhere.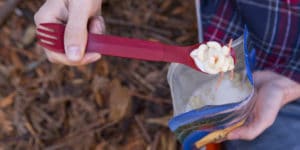 One big advantage I see for the GoBites Duo over other camp utensils is that the two pieces do lock together to make a long spoon/fork.  This is hand if you are eating out of a bag of dehydrated food. Even just with eating out of small thermos, I found it handy to lock the two together.
I've used several other Humangear products and they are all pretty solidly designed and durable. The GoBites Duo seems to be living up to that track record. The spoon has enough dish to it to hold food, and the fork's tines are in the sweet spot of not too skinny or too fat. The pair seems durable enough for most use and I wouldn't worry about them snapping under normal conditions.
On the whole, my review of the Humangear GoBites Duo results in a big thumbs up.