My review of the Osprey Transporter 95 duffel bag along with some updates from previous versions and reviews. 
I wound up doing this review of the Osprey Transporter 95 duffel bag because I was headed to Roatan on a diving trip and needed a heavy duty dive bag that would handle the rigors of 4 flights and over 6,000 miles of travel. 
This bag needed to hold my BC and fins, plus my clothes, and toiletries for a week of diving. First I'll cover the pros and cons of the Osprey Transporter 95 and then I'll cover how it held up to international flights and some rough handling. 
Summary Of The Osprey 95 Duffel
The Osprey Transporter 95 is best summarized as a tough, nearly waterproof duffel that is easy to pack and easy to transport. While it lacks the standard briefcase handles common on other duffel bags, it does sport stow away backpack straps for when you have to carry this duffel longer distances. 
Basic Stats:
95 Liter capacity
 3.39 lb (1.54 kg)
30h x 17w x 13d in
$185 list price
Pros:
High quality YKK zippers
Beefy carry handles
Water and rain resistant
Cavernous interior space
Comfortable shoulder straps with sternum strap
High quality materials with a great warranty
No briefcase handles
Lockable
Cons:
Top opening packs weird
Limited interior pockets
Obviously no protection for fragile items
Build of the Osprey 95 Duffel
Right out of the bag, the Osprey 95 Duffel feels durable. The double coated TPU coated 840D Nylon feels effectively bulletproof, while not being overly bulky and heavy. The four grab handle feel beefy and like they would survive baggage handlers tossing this duffel around fully loaded. The quality YKK zippers work smooth and I like that the zippers have loops for putting a lock on them. 
The interior zippered mesh pocket is roomy and would be a good place to stash smaller items if I was using it for a general purpose travel bag. The "top" of this duffel also has a roomy exterior pocket that would be good for items you need to access quickly. 
There is also a place to stick an identification card, in case your bag gets lost in transit. 
The integrated backpack straps are far more comfortable and padded than I expected. 
What I Like About This Bag
To start with, I was looking for a bag with nothing that could get ripped off in transit. Traditional dive bags and duffels have lots of handles and loops that can get snagged. I also wanted something that didn't stand out a "dive bag". Stealth is your friend when traveling. 
For moving around, the four grab handles are tough enough that I don't feel worried that they will pull off if someone it throwing it around. I was particularly impressed with the backpack straps. They are definitely comfortable enough for packing this bag around an airport and the sternum strap is even adjustable. 
While I haven't tried tested out its waterproof qualities, I can see this as being a great bag for taking on treks where my bag will be outside, such as when I go to Montana fishing. 
The Osprey 95 Duffel As a Dive Bag
As I mentioned, I originally go this bag as a duffel for my dive gear for a trip to Roatan. My goal was to have something big enough for my BC, fins, and boots, plus my clothes for a week and toiletry kit.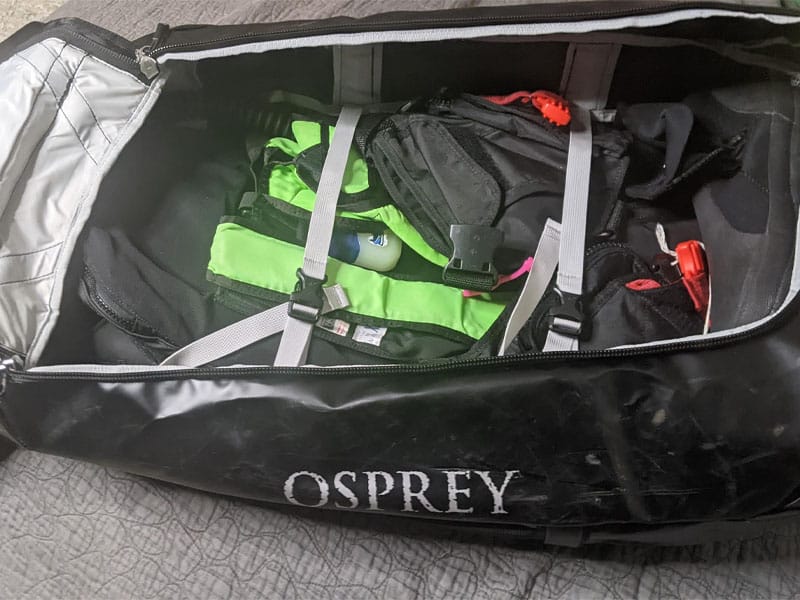 As you can see from this photo, with my BC, fins, and boots and this bag is only about half full. Granted that I only took one compression bag of clothes, but even with my dive gear, clothes, and toiletry kit, I'd say this bag was just over half full. It did come in at about 31# fully loaded when I checked it in. 
If I had a wet suit or dry suit, I feel like it would fit  just fine, and while I wouldn't check my bag with my octopus bag, all of them would fit in there without issue. 
Best Price on the Osprey Transporter 95
When I started shopping for my duffel bag, there were a couple obvious places to look. Amazon is always a go-to place to shop, but REI is also a great place to buy outdoor gear. When it came down to it, the Osprey 95 on Amazon can usually be found for about list price. 
Ultimately I picked mine up from REI though as they had it on sale the week I was shopping. Plus I know they are really good about standing behind all the products they sell.