A stuffable adventure blanket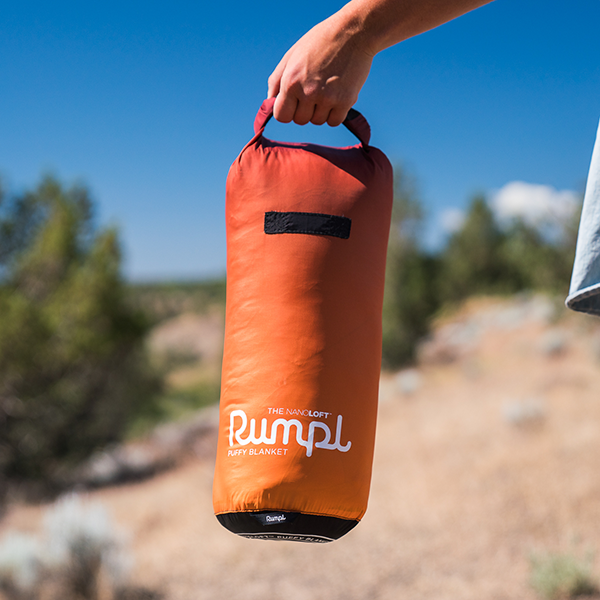 Sure, my adventure van is a bit ghetto still. The insulation isn't all in and the paneling is coming along. But it is still getting used and there are a few things that have become a staple in there. One is a small original puffy blanket from Rumpl (link to their blankets).
I originally got mine in a Cairn Obsidian box, and it went in my Honda Element when I was driving that around doing outside sales. It was great for taking a lunch break under a tree, or for a quick nap. Yes, naps are allowed when your workdays don't have fixed start and stop times. Now that I'm not using that vehicle anymore, my Rumpl Original Puffy has migrated over to the van.
In all honesty, I really need a bigger one as the one they sent was a junior size, and all of my life is pretty much an XXL, but it still works well as a throw blanket, pillow, or just for covering up my feet as I work on the laptop.
To date, I haven't managed to get it permanently stained and their claims that most dirt won't stick to it have been accurate. Rumpl blankets are water-resistant but aren't waterproof though, so if you use it as something to sit on when the ground is wet, it will eventually soak through. For those conditions, I suggest a waterproof ground cloth ( ⬅️ obligatory Amazon link) goes down first. They do dry out quickly however if you do manage to get them wet
Should you buy a Rumpl
If you are reading this, you are likely ponding purchasing one and are wondering if a Rumpl blanket is worth the money. What I can tell you is that they aren't exceptionally inexpensive, but quality items rarely are. Personally, after I'm done rigging out the van, I'm going to pick up a 2-person NanoLoft™ Rumpl blanket (NanoLoft catalog link). Having a super warm blanket that I can compact into a small space is fairly important for in there. I also like supporting any company that is trying to use up our glut of recycled plastic and the NanoLoft™ insulation is 100% post-consumer recycled material.
One other thing you may want to consider a Rumpl Blanket for is in your everyday car if you drive anywhere that gets cold in the winter. Getting stuck sitting in your car on cold night because you are stuck or because your car has broken down can be uncomfortable at the least and life-threatening at the worst. You should always have an appropriate emergency kit in your car which includes a couple of foil blankets, but stashing one of these in there will make things a lot more comfortable if you wind up sitting around waiting for help to arrive.
Final thoughts on Rumpl Blankets
Rumpl Blankets aren't particularly inexpensive, but their quality warrants their price point in my book. I'm the kind of person that buys high-quality gear and uses it forever though. I really love the recycled insulation and the performance that I've gotten from the one I have.
Big plusses for me:
Recycled content
Water-resistant
Available in large sizes
Compression sack friendly
Nice and warm
If you are looking for a warm, hard wearing adventure blanked that you can stuff into a fairly small space, then I'd definitely look at getting one. Not sure which one to get? Take a look at Rumpl's Best Sellers page!