Pumpkin Hurl = Screaming Pumpkins of Doom!
Update: Sadly they have cancelled the Pumpkin Hurl for 2016.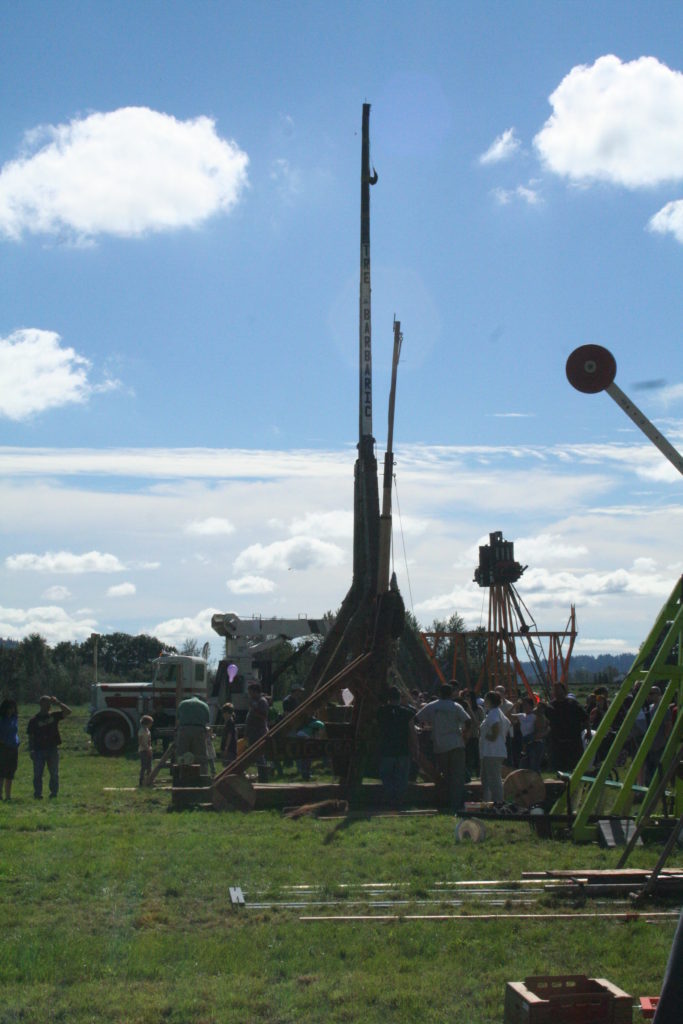 Fall is the start of the corn maze and Pumpkin season here in the Northwest and my favorite event of the season is the Snohomish Pumpkin Hurl. If you have watched the Pumpkin Chunkin shows on TV, this is very similar, just smaller and more home town.
The star of the show is always Tre Barbaric which broke the distance record in 2007. With a hurls of over 1800 feet, the Pumpkins are literally screaming as the arm of this massive 58′ tall trebuchet comes around and releases its unprocessed pie filling down range. The only thing missing is a wide screen play back of the splatter at the end.
Other smaller trebuchets and catapults attend as well and in one way or another all are worth applauding for.
This year the Snohomish Pumpkin Hurl has moved a little closer to Everett so it might be a little more busy, but I would be happy to see it grow and expand to have more competitors.
Tips for Attending the Snohomish Pumpkin Hurl
Since they have moved the event I am hoping it isn't any different and all these are still relevant. First is be prepared for the weather. We have never been to one when it wasn't hot and dusty. Of course now that I have said this it will probably rain like hell.
Bring food and something to drink! I have no problem supporting the vendors that come out to these events, but there is always a big line at the food booths, often times soda and water runs out and it can be a real hassle, especially if you have kids with you.
Butt pads are a big help! At all the previous Pumpkin Hurls, they had small bleachers set up. These are fine for getting you up off the dirt and off your feet for watching the fun, but they are hell on your butt! Bring something to sit on. A stadium cushion or even a thick blanket that you can fold up and sit on will make the whole experience better for all your troops!
Go enjoy the 2011 Snohomish Pumpkin Hurl!
Whatever you do, get out and have some fun watching Pumpkins getting abused. You can DVR whatever is on TV and watch it later. Or if you are like me, record it, forget about it and then delete it when you need to record something else.
Have fun and I hope to see you there!
2001 4th Annual Snohomish Pumpkin Hurl and Medieval Faire