UFOs and Aliens in McMinnville, OR?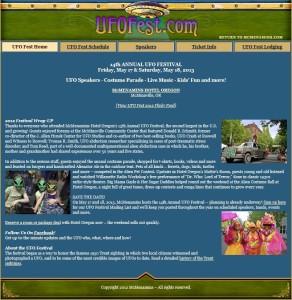 If you are in the Northwest, plan to attend the McMinnville UFO Festival!
Are you a fan of UFOs and aliens? Then you should really take a trip to the McMinnville UFO convention that is held in May every year!
On May 17 of every year, McMinnville hosts its Annual UFO Festival with a parade, speakers, vendors, and LOADS of people dressed up in all sorts of outfits.
About the McMinnville UFO Festival
The McMinnville UFO Festival began as a way to honor the famous 1950 Trent sighting in which two local citizens witnessed and photographed a UFO. In one of the earlier UFO cases with photos, they have put together a PDF detailing the history of the Trent Sightings that you should take a look at. Trent UFO Sightings PDF
Traditionally they have a great lineup of UFO-related speakers that have included Stanton T. Friedman, Kathleen Marden, Grant Cameron, Travis Walton, Peter Davenport, and George Noory of Coast to Coast AM fame.
McMinnville UFO Festival Is More Than Speakers
Most UFO conventions are good with a bevy of speakers, but McMinnville goes out with live bands at different venues around town and a big UFO-themed parade during the day.
Make your reservations early!
There aren't a lot of places to stay in McMinnville so if you want to stay in town, you will want to book early! We are contemplating rolling down there in an RV or with a trailer so we have a place to crash.