If your are headed east on I-90 stop and see the Wild Horse Monument!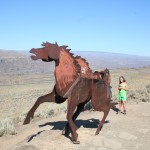 Perched high on a bluff over the Columbia River gorge, just a few miles before the turn off to the George Amphitheater is a often missed monument to the wild horses that once roamed across the plains of Washington State.
The monument is actually a series of wild horses cut from 1″ thick steel that is entitled Grandfather Cuts Loose the Ponies created by David Govedare, symbolically re-creates the Great Spirit turning loose a herd of wild horses above the Columbia River's Wanapum Lake. The whole monument actually stretches for 200′ across the top of the hill overlooking the river and the town of Vantage.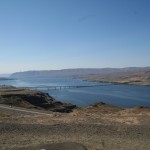 It is only accessible from the eastbound lanes of I-90 and with a short hike. A short but robust scramble, the trail is only one mile round trip with a 150′ elevation gain. The trip is definitely worth it, as the view from the top is majestic.
So next time you get ready to head east, plan on an extra hour, bring some hiking shoes and stop and see the Wild Horse Monument. It is a link to a wilder time before farms and development gobbled up the wide open spaces that you really should stop and give thought to.
Cover Photo Credit: Dennis Hammilton