As a big guy that sleeps on his front and loves to camp, I'm well aware that finding a sleeping pad that is comfortable for stomach sleepers can be a challenge. After some research, here is what I learned from other campers that share this problem of being comfortable at night sleeping on something other than their back.
Between the flat foam and inflatable camping sleeping pads, the overwhelming majority of front sleepers chose the inflatable style. The extra thickness provided support without bottoming out or making pressure points sore. 
Not all campers are the same size, or will use them in the same way. Because of this, there is no one size fits all answer to what is the best camping pad for front sleepers.
In looking at everyone's preferences on inflatable sleeping pads, a few names popped up. Here is a list of sleeping pads suggested for front sleeping campers and hikers. I will be linking out to various resources and places you can look into these pads more throughout this article. Some of those links are affiliate links, which means that if you make a qualifying purchase you help me out, without costing you anything. It is greatly appreciated as that is one of the ways I fund new adventures, writing posts, and shooting videos.
All of these links will open in a new window to make your research a little easier. While you are shopping, don't overlook eBay for camping gear. There can sometimes be some great deals on both new and lightly used outdoor gear on there!
Flat vs Baffled Sleeping Pads
One thing to keep in mind is that some inflatable camping pads are flat or nearly flat like the NeoAir, while some are more deeply ridged like the Big Agnes. For back sleepers these usually aren't an issue. Some people pointed out that depending on how they lay, the larger baffles can put pressure on elbows and more importantly, kneecaps.
The Right Length and Width Pad for Front Sleeping
If you sleep on your back, you can get away with a narrow pad that covers your torso. Sleeping on your front however, you need to make sure your sleeping pad will be wide enough for your elbows and at least long enough to make it past your knees.
These are the standard size for the top picks for sleeping pads. Check out our list down below for more information on option for individual pads.
Do keep in mind that most of these come in a variety of lengths and width, so these are just some base model numbers. I encourage you to look at the various ones and see which one will fit you the best.
Get the Right Size of Sleeping Pad
Personally, I am good with a shorter pad in the summer that comes down below my knees. In the colder months, I prefer a longer pad that will keep my feet off the ground. You will want to play around with what size you need to be comfortable. The best thing to do is go to the store and test them out, but if you can't do that, use a tape measure to get a rough idea of what size pad you will need to be comfortable camping. 
Of particular importance is the width. Lay down on the floor in your preferred position and have someone measure the width of your sprawl. Granted, most sleeping bags limit this to some degree, but if you get a pad that is too narrow, your elbows will be hanging off the edge which isn't comfortable at all.
More Information on These Sleeping Pads
Trying to find the right sleeping pad can be almost as much a pain as sleeping on the wrong one. Hopefully, I can save you some time in trying to pick a sleeping pad that works well for sleeping on your belly. Some of these pads come in more than one size, so you should be able to find one that fits you. 
Thermarest NeoAir® XLite™ Sleeping Pad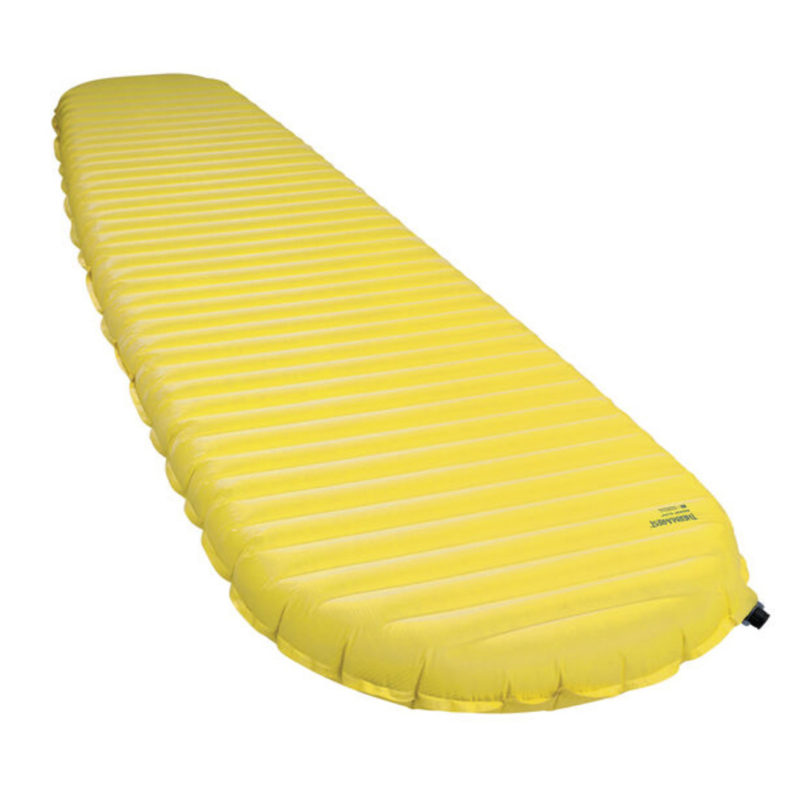 Thermarest is easily the veteran in the sleeping pad business and the self-proclaimed "original inventor of the self-inflating sleeping pad". The NeoAir XLite is a minimalist pack and weighs in between 8 and 16 ounces depending on which size you choose. 
The NeoAir features their WingLock valve for easy inflation and deflation. Most of the reviews of this pad were positive. The biggest complaint is that the 20" width is too narrow for most people. Other people point out that the included inflation sack tends to not connect well to the sleeping pad. On the other side of the coin, it only takes 20-25 breaths to inflate this sleeping pad.
| | | | | |
| --- | --- | --- | --- | --- |
| | Small | Regular | Large | Regular Wide |
| Weight | 8oz | 12oz | 16oz | 15oz |
| Width | 20" | 20" | 25" | 25" |
| Length | 47" | 72" | 77" | 72" |
| | | | | |
While not the least expensive on the list, the NeoAir Large or Regular Wide would be good for the front sleeper that is pack weight concious.
---
Outdoorsman UL Camping Sleeping Pad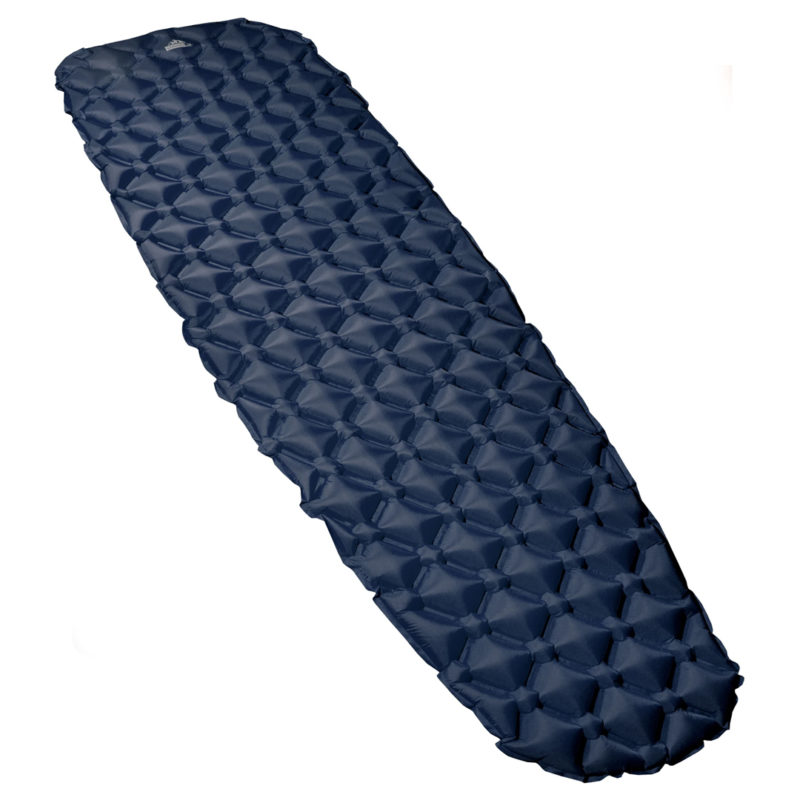 Among the contenders for this list, the Outdoorsman UL is a solid choice if you are on a budget. The drawback is that you have only one choice of sizes, so if you need wider than this you are out of luck. One additional benefit is that it is a very quiet pad. A common complaint of blow-up pads is that they crinkle when you move. Weighing in at 16oz it comes in as comparable to other pads. 
Do note that at 21.6" wide it is likely going to be a bit narrow for larger people.
---
Exped SynMat HL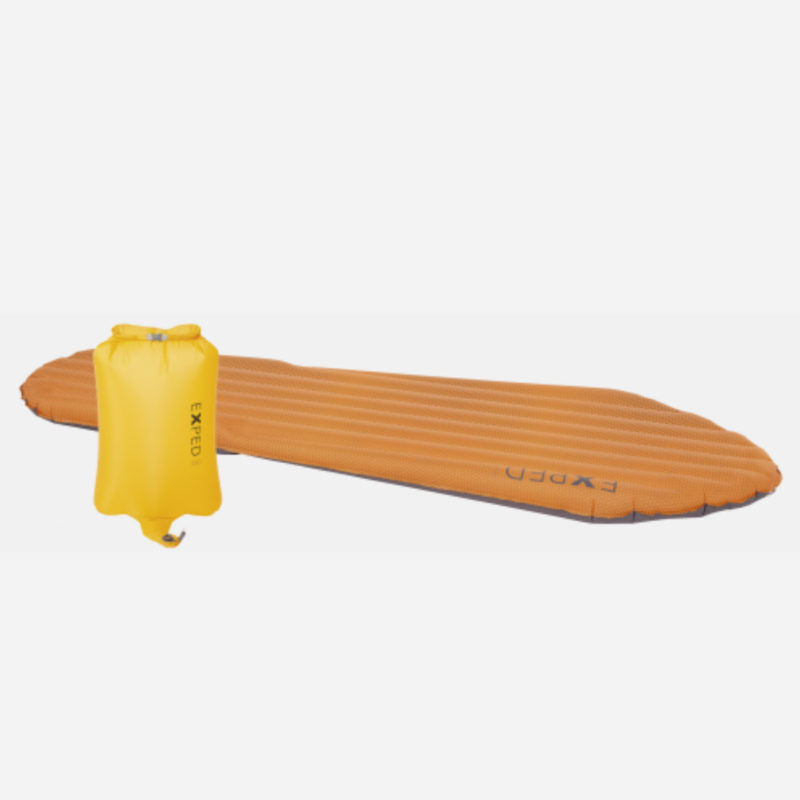 To be honest, the array of sleeping pads that Exped produces is simply stunning. Checking some other places, there are a significant number of reviews on Amazon and they are all at least a 4 rating which says a lot to me. Many people commented that it isn't crinkly, which is again a common problem with sleeping pads. It does come with an inflation sack that doubles as a compression sack.
| | | | |
| --- | --- | --- | --- |
| | HL M | HL MW | HL LW |
| Weight | 12.9oz | 15.6oz | 15.7oz |
| Shoulder Width | 20.5" | 25.6" | 25.6" |
| Length | 72" | 72" | 77.6" |
---
Big Agnes Insulated Air Core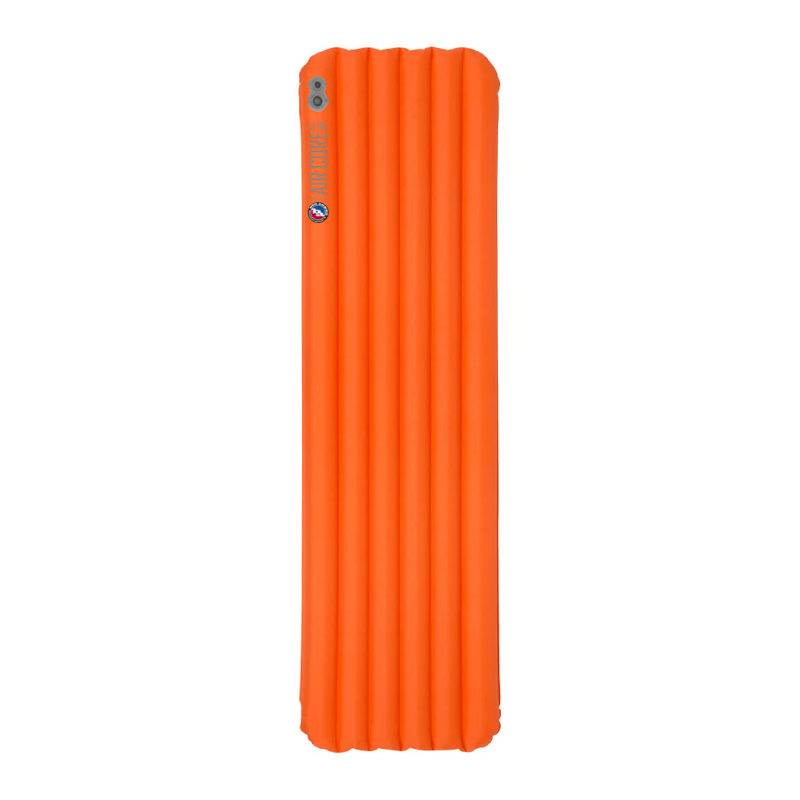 Another veteran sleeping pad, the Big Agnes is built for comfort, but still isn't as wide as some of the other choices. It easily wins on the thickness scale, coming in at least a full inch thicker than the other sleeping pads. As sleeping pads for front sleepers go, that extra inch in thickness may be what you need.
Larger outer baffles on these mattresses help keep you centered on the sleeping pad. What you sacrifice for all that comfort is weight. All of the Big Agnes Air Core pads weigh in over a full pound. If you are a real weight miser, this might not be the sleeping pad for you. 
| | | |
| --- | --- | --- |
| Length | Width | Weight |
| 48" | 20" | 14oz |
| 66" | 20" | 20oz |
| 72" | 20" | 21oz |
| 78" | 20" | 23oz |
| 72" | 25" | 25oz |
| 78" | 25" | 27oz |
| 78" | 50" | 55oz |
---
Thermarest ProLite™ Sleeping Pad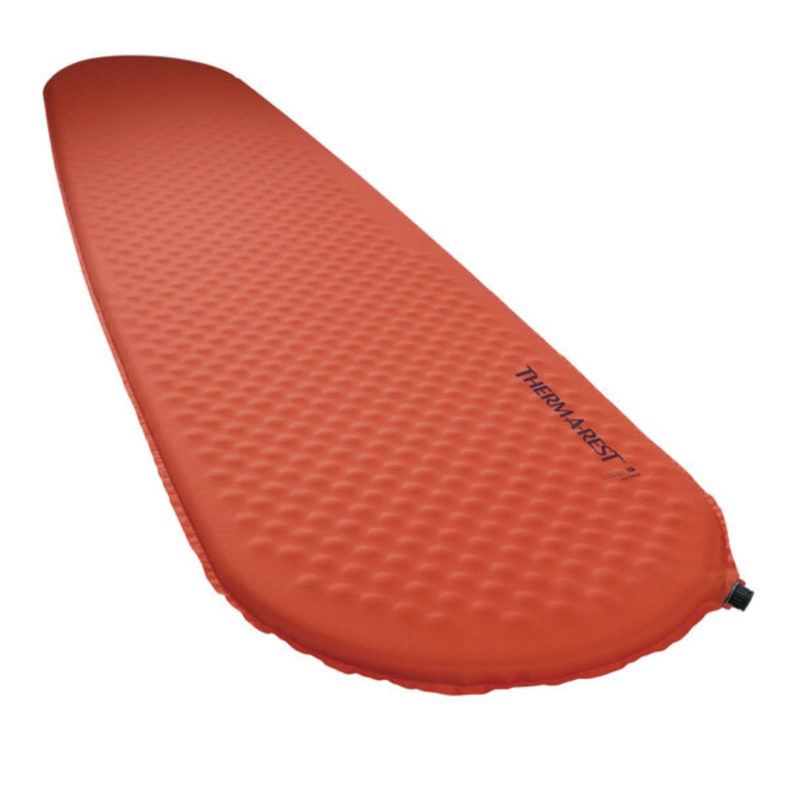 The big difference between the ProLite and our other sleeping pads on the list is that the ProLite is a mere 1" thick. Now I've slept on some skinny pads, but I've never tried sleeping on my front on a sleeping pad this thin. Some people swear by them though.
| | | | |
| --- | --- | --- | --- |
| | Small | Medium | Large |
| Length | 47" | 72" | 77" |
| Width | 20" | 20" | 25" |
| Weight | 12oz | 18oz | 24oz |
| | | | |
This is a foam filled semi-self inflating pad. Just roll it out, let it do its thing then top it off with a few breaths. These pads are a good bit heavier than the NeoAir, but will also not take such a big bite out of your wallet.
---
Pillows for Front Sleepers
As I'm wrapping this up, I would be remiss if I didn't point out that one big consideration for sleeping on your front while camping is your pillow. At home, I have my favorite, beat-up old pillow that I can shove under my chest when I'm sleeping. Camping is a different matter. 
I'm not sure I'd trust a blow-up pillow for under my chest, or under me if I am side sleeping. If I need a pillow for those occasions, I will use a stuff sack with some of my extra clothes. You may want to explore your options for what works best for you. 
Final Thoughts on Sleeping Pads for Front Sleepers
Obviously, there isn't a one-size-fits-all solution when it comes to sleeping pads for stomach sleepers. You will need to look at what is available and compare it to your dimensions and needs. If you are mostly car camping you can go thick and heavy. If you are going into the backcountry, then weight may be a big consideration. 
My hope is that I've at least given you a starting place to start you on the right path to finding a comfortable sleeping pad for sleeping on your stomach while camping.