The BearVault BV450-Jaunt is the perfect bear canister for weekend trips or solo excursions lasting 3-4 days. Its compact design allows it to fit in smaller packs, yet it still offers ample space to store a sufficient amount of food. This bear canister not only keeps your food safe, but also helps protect bears and other wildlife by preventing human-bear encounters. Whether you're going on a weekend trip for two or a solo trip, the BV450-Jaunt is the ideal choice for your backcountry journey.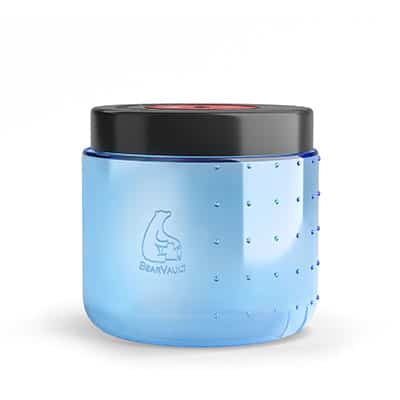 The BearVault BV450 has been a staple among hikers for a long time now because it will hold about 4 days food for one person, or two days food for two. This makes it the perfect size for weekend adventures in the outdoors!
If you are looking for something smaller, you might check out BearVault's newest releases with include the BearVault BV425-Sprint which is perfect for solo hikers out for a weekend trip. 
One of the added benefits of the BearVault BV450 is its versatility. Not only is it a great way to keep your food secure from bears, but it also doubles as a seat when you're camping. This can be especially handy when you're cooking on the ground. While the BearVault BV450 is not waterproof, if you store it right side up, it will protect your food from rain. To ensure your food stays dry, you can also line it with a plastic bag.
When using a bear canister, it's important to remember that not all items can be stored inside. One of the things that should never be stored in a bear canister is products containing DEET. DEET, or N,N-diethyl-meta-toluamide, is a common ingredient in insect repellents. DEET has been known to react with certain types of plastic, causing it to soften, become brittle and even melt. This can weaken the structural integrity of the bear canister and make it less bear-resistant.
So never store products with DEET in your BearVault or handle it with DEET on your hands. 
To keep bears safe and your food secure, bring along DEET free bug sprays such as Ranger Ready.
Specifically designed to be wide, round and slippery to reduce leverage points for entry from bear jaws, claws and paws
Weight is low and volume is high, thanks to the durable, polycarbonate construction
Transparent canister is easy to see into and doesn't require you to empty the contents of the container to find specific items
Wide opening allows you to reach all the way in to find your tasty treats
Screw-on lid is intuitive and secure, and doesn't require extra tools to operate; no need to overtighten
Strap guides aid in strapping and packing canister to your preference; an ideal place for your can is inside your pack just above your sleeping bag
Rounded corners allow for smooth packing and removal
Container doubles as a camp stool, a luxury most backpackers leave behind; close lid fully when using as a stool to preserve the screw-top threads
This BearVault model has approval from both the Sierra Interagency Black Bear Group and Interagency Grizzly Bear Committee
Fits about 4 days of food for one person.