Hiking To Colchuck Lake – What You Need To Know Before You Go
Colchuck is a magical alpine lake just outside of Leavenworth Washington. Your uphill grind to get to it is rewarded by amazing views of the surrounding crags, and mesmerizingly blue waters. With this combination, it is no surprise that the Colchuck Lake hike is so popular with hikers
Colchuck Lake Trail
General Information
Parking Passes:
Northwest Forest Pass or America the Beautiful Pass or a $5 cash per vehicle payable at the trailhead.
Parking:
Parking lot and roadside, but very busy
Bathrooms:
Trailhead vault toilet and boxes along the trail
Camping:
Overnight camping by permit only (see below)
Best Hiked:
Early mornings from July through October
Dogs:
No dogs are allowed
Kid Friendly:
I wouldn't suggest this hike for kids, though people were bringing them up
How To Get To The Colchuck Lake Trailhead
If you want to make things easy, Google Map the Stuart And Colchuck Lake Trailheads.
If you are coming from Seattle, it is a minimum of 3 hours to get to the Colchuck Lake trailhead from Seattle, but I'd plan for longer than that with traffic along HWY 2.
The road to the trailhead is paved until the last three miles and after that is a slightly rough dirt road that can be very dusty and occasionally a challenge to navigate thanks to oncoming traffic and cars parked along the road.
Winter Closure: The last 4 miles to the Colchuck Lake Trailhead is closed to traffic during the winter months. If you really want to hike it or Asgard Pass during the winter months, you will have to plan to add a solid 4 mile uphill slog to your trip.
Colchuck Lake Parking
If I said that Colchuck Lake parking is horrible, it is an understatement.
There is a large parking lot at the trailhead, but half of those spaces are reserved for people with camping passes. Unless you are very early, or there on a very slow day, you will wind up needing to park on the road leading to the trailhead. Note that parking is allowed only on the right side of the road.
If you do, make sure you get well out of the road and leave enough room between you and the other cars for when you want to leave. The last time I was there, I was playing shuttle car driver for friends going over Aasgard Pass, and it took about a 6 point turn to wiggle their car out of the space it was in, and I barely slid it out between the other cars, not quite brushing mirrors as I did.
Day Pass and Camping Pass Info For Colchuck Lake
To park at the trailhead you will either need a Northwest Forest Pass or pay a $5 parking fee at the box at the trailhead.
Day hikers need to fill out a two-part hiking permit at the trailhead, putting one part in the box and the other on their gear. Groups are limited to 8 people and this is part of that tracking.
Camping permits are by strict permit only and you have to apply in February and hope to win a spot in the Enchantment Area Wilderness Permit lottery.
How hard is the Colchuck Lake hike?
Most places I've seen rate the Cholchuck Lake trail as hard and I'd have to agree with that. For the most part, I'd call the trail well maintained, but there are some scrambles, and the vertical is significant.
That being said, a lot of people go up and down this trail, and some were towing rather small children. If you are moderately fit, you won't have a problem with hiking the Colchuck Lake trail.
Of course on my way out I did see a woman about two miles from the trailhead, sitting and resting along the side of the trail, while giving her boyfriend some serious "WTF were you thinking dragging me out here" looks. 🤣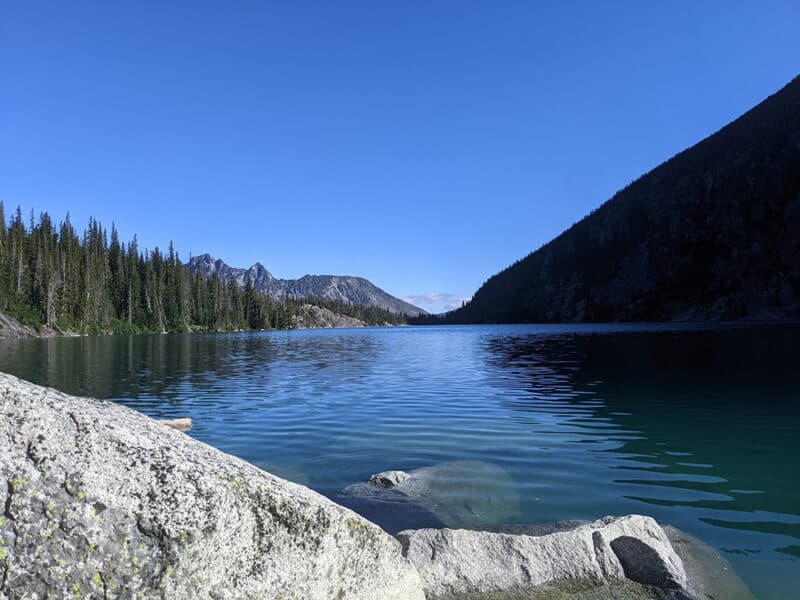 When is the best time to hike to Colchuck Lake?
Depending on the year, the Colchuck Lake trail can have snow up until late July.
The best time of year to hike the Colchuck Lake trail is September to early October. This will put you after most of the bugs and heat, but before the snow starts flying again. As a bonus, the larches will be turning about this time of year.
If you can avoid weekends, I'd suggest it as it can be very busy. The earlier you can get on the trail the better and if you get there early enough you will get to hike in the shade and see the sunrise at the lake which is pretty.
Can You Fish Colchuck Lake?
Colchuck Lake does have trout in it and one person I talked to said they were so thick you could "almost scoop them up with your hand".
I couldn't find any definitive sources on the species of trout in Colchuck, but I do see that it has been stocked with Cutthroat Trout on at least a few occasions. Some reports state that they caught Rainbow Trout as well, of some variety of Rainbow-Cutthroat hybrid.
There isn't a lot of good fishable shoreline to work with if you are fly fishing, but people do it here. Terrestrial dry flies like mosquitos, ants, and grasshoppers will work well as more traditional wet flies like muddlers.
Personally, I'm a fan of spinning rods and using spoons and spinners in lakes like these. Small spinners retrieved with a start/stop fashion should be very productive, as will small spoons that are retrieved then let flutter down.
If it was me, I'd take an Eagle Claw telescoping rod and a lightweight reel with some two or four-pound fishing line spooled up. As for lures, I'd take some small spinners and spoons, as well as a few flies and a few clear fly fishing bobbers.
I'd suggest against using dough baits, as this pristine lake doesn't need that stuff floating around in it, or the inevitable containers littering its shores. Additionally, to help protect any fish you catch, I'd swap out any treble hooks for singles.
Of course, catch-and-release is preferred on lakes like these as a small increase in fishing pressure could be very bad for these populations.
Cell Signal At Colchuck Lake
There is no cell signal at all along the Colchuck Lake trail or at the lake itself. In fact, you likely won't get signal again until you are several miles down the road. This makes it all the more important to take along an emergency beacon in case something goes wrong. This trail is very busy, so you could try and rely on others to go for help for you if something happened, but it would be very easy to get out of sight of other hikers and get in a very bad spot out there.
What To Bring On The Colchuck Lake Trail
Heading out on the Colchuck Lake trail, you should plan on a 6-8 hour trip depending on your speed and how long you plan on staying at the lake. Here are my suggestions on what to bring when you hike to Colchuck Lake.
At least two liters of water, snacks, and lunch. Even if you head out in the morning, you will wind up hiking back down in the midday heat, and it can get quite warm on the rocks at the lake so bring plenty of water and possibly a filter. Personally, I love the Mazama 2L hydration bladders for water storage and my Osprey Stratos 24 day pack.
Bug spray is always a great suggestion. The day I was up there, the mosquitos weren't that bad, but I can bet that isn't always the case. My preferred repellent are the Ranger Ready DEET-free bug repellents.
Good hiking footwear for scrambling over rocks. There are lots of ankle-busting rocks and roots along this trail, as well as lots of opportunities to slip into holes. I did the trip in my Luna sandals and got lots of comments, but wouldn't suggest that for your average hiker.
Trekking poles are really handy, especially on your way down. Slipping isn't usually a problem on the way up, at least for me, but on the way down I find poles to be really handy to take the load off the knees and prevent slipping and falling on my ass.
If you plan on swimming (which I suggest you do) you might want to bring a swimsuit and towel. For this sort of adventure, I like the quick-dry beach towels as they don't take up much room.
Some sort of camera gear to capture the views. If you are a camera buff, bring your wide-angle lenses and tripods to catch all the majesty of the surrounding hills.
Lodging and Where To Stay
You can drive from Seattle and hike Colchuck Lake in a day, but considering that you really want to be at the trail by 5 am, it makes for a very long day. I'd suggest driving up the day before so you can be fresh and get an early start in the morning.
Campgrounds Near Colchuck Lake Trail
There are several campgrounds near the Colchuck Lake trailhead if you are up for such things before your hike.
Bridge Creek Campground
Eightmile Campground
The trio of Johny Creek campgrounds
Hotels Near Colchuck Lake Trail
This time out, we stayed in town at the Howard Johnson in Leavenworth, and I can say that it was completely sufficient. One warning though if you are planning on staying in a local hotel, many of the hotels in Leavenworth are booked quite a while in advance, so plan ahead. This is by no means an exhaustive list of local hotels and on top of this there are plenty of private rentals as well.
Icicle Village Resort
FairBridge Inn & Suites Leavenworth
Blue Elk Inn
Howard Johnson by Wyndham Leavenworth
WorldMark Leavenworth
Local Places To Eat
There are plenty of awesome dining choices in Leavenworth, so unless you are desperate, skip the corporate fast food and try some of the local fair. Lots of it has a Bavarian flair and is perfect for after a long hike.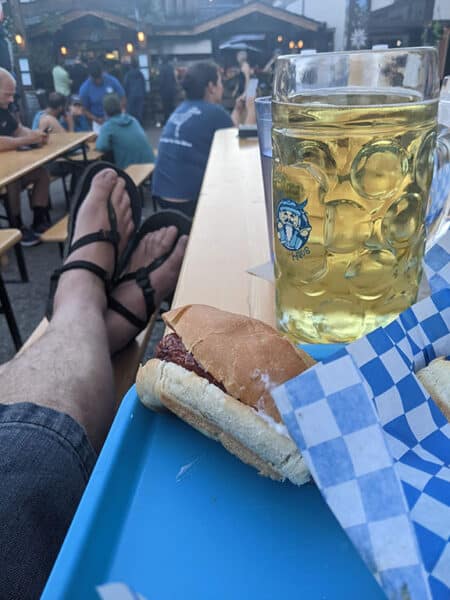 The night before, we headed down to the Yodelin Broth Company. Some very fine food, definitely bougie and has a very Seattle bistro food feel. Very good though. Most people had their bone broth soups, I had a burger with potatoes and it was good. I wouldn't rave about it, but I was effectively ordering chicken at a steak house.
Post-hike we headed down to München Haus for beer and sausages. This is about as iconic Leavenworth as you can get. Big sausages with a whole array of mustards to slather on your sausages, along with some very good apple cider sauerkraut. When it comes to Bavarian mugs of beer, be ready to be thirsty because while their big beers are ~$20, they are the equivalent of four bottles.
The next morning we needed some good recovery food, so headed over to Kristall's Restaurant & Lounge for some old-school American-style breakfast. Everything we had looked good and I thoroughly enjoyed my chicken fried steak.
This is just a small sampling of the food in Leavenworth. It would take an extended trip to hit all of the restaurants in Leavenworth's tourist area.