What do you do when you want to build a fire or do some grilling, but there isn't a fire pit where you are camping? Portable fire pits like the UCO Flat Pack grill solve that problem by letting you build a fire or grill just about everywhere.
Honestly, I would never have thought of getting a portable fire pit, but one showed up in one of the Cairn Obsidian boxes that I've gotten. So I thought I'd break it out and see if it actually works for grilling food or not.
To do a little breakdown of this portable fire pit, it is made of stainless steel, folds flat for storage and weighs just over 3 pounds. It is dubbed as being good for backpacking, but I am dubious of that just from a weight standpoint, but if you wanted to, you could do it. Or maybe if you weren't going very far.
As for construction, the UCO Flat Pack Grill feels very durable. The legs are very solid and stable, and the fire pan is thick enough that it feels like it will hold up for a good long while. The only comment I've seen from other reviewers is that the grill grate itself isn't super heavy and will likely be the first thing that gives up on this fire pit.
I can see that the grill is a bit light in comparison to the rest of the grill. My only other complaint I can offer is that the little piece of bent wire that comes with it is wimpy and doesn't work that good for pretty much anything.
UCO Flat Pack Grill in action
I loaded up the grill with some charcoal and gave it time to do its thing. The high sides keep the wind off the coals and it drafts fairly well. My big concern is how hot it gets under the grill/firepit when it is going. So while it was going I did some measurements on the table under it.
Several readings later, I never got any that were hot enough to even be a concern. Usually, the temperature of the table under it hovered right around 110 degrees in Fahrenheit.
As for grilling, the biggest issue I had was that I really should have put more coals in it and had more heat under my steak. Even then it was just a matter of it cooking a little bit slower than I would have liked it to.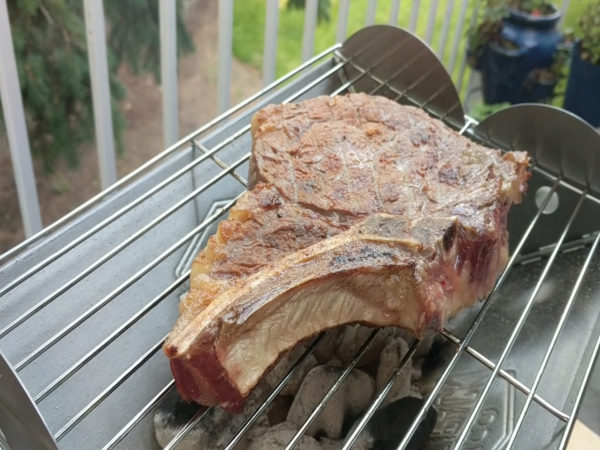 Final Verdict On The UCO Flat Pack Grill
There really isn't a ton to review here. This portable fire pit/grill does exactly what it says it will. As I stated, I wouldn't plan on using it for serious camping as it would be a lot of weight to carry. But for short outings or for having in my adventure van, it is perfect. The only other thing I would say is that you can get at most, two good steaks on it. Feeding a family of four is right out unless you are doing hotdogs.
Cool Gear For Day Hiking You Should Check Out
This will be going in the van and will be getting more use for sure.
UCO lists their regular size grill at $49.99 on their website but you can pick one up on Amazon for ~$10 less than that. (Yes that is an affiliate link) You can get a standard portable grill for about the same money and might gain a little bit of cooking area, but it will take up a good bit more space.