One thing I love when I roll out on adventures is sitting around a fire and either just listening to the world around me or drinking and BSing with friends. The problem is that some of the places I pull Leif the Adventure Van up to don't have fire pits, or have them in places that aren't convenient. Alternatively, sometimes I don't want to build a big fire and have to deal with finding all that wood. This is why I like having a portable wood-burning fire pit that works with van-life.
Now normally I use my UCO Flat-pack Grill, but it is a bit small for building a real fire. It works, but I wouldn't mind something a touch larger, which set me on the path of looking for flat pack fire pits. The interesting thing is that finding a good firepit that doesn't take up much room and that will keep a fire up off the ground so I don't have to worry about scorching the ground or setting fire to anything, though I think I'll be adding a fire mat as well to protect the ground and comply with the regulations in some areas.
I know for a fact that the UCO doesn't get the surface below it very hot, and have tested it with an infrared thermometer on a plastic table. Other designs I've seen wouldn't fare the same. With these two factors, packability and safety, in mind, here are a few of the potential new fire pits to put in Leif for future trips.
---
Fold-a-Flame Large Firepit and Grill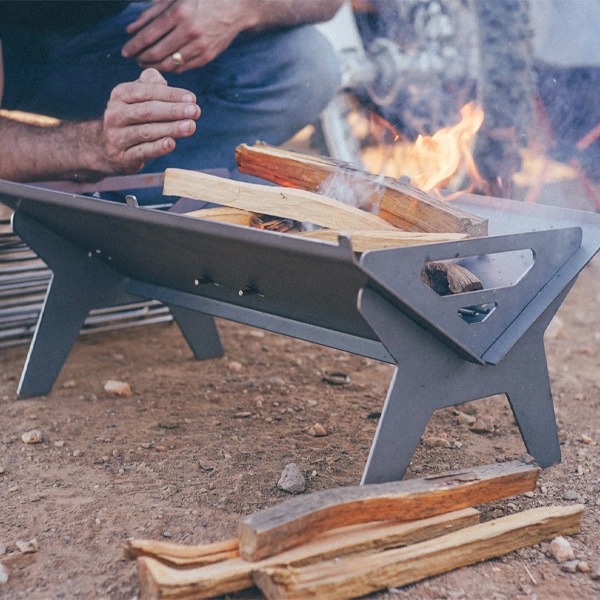 The standard 4-piece slide-together design, but in a larger size than what I have now. Fully assembled this grill is 23" long, 15.5" wide, 10" high.
Their site states that it is designed for firewood cut to a 16" standard firewood, and will take firewood up to 21" long.
I like that it also comes with a pair of charcoal grates, so when using it as a grill, you don't have to use quite as much charcoal to get the job done.
On thing that I like about this flat-pack fire pit is that it is wider and less deep than some of the other portable fire pits. Additionally, it keeps the fire up off the ground a distance.
Advertised price: $289.00
---
SX Pack Flat Fire-Pit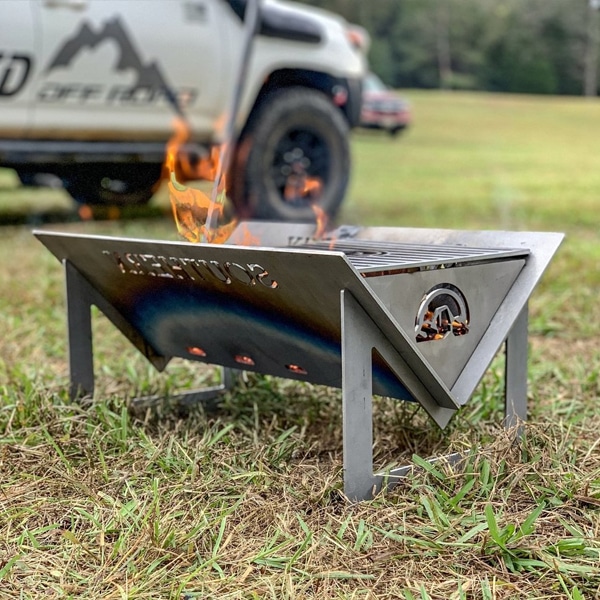 A similar design to the Fold-a-Flame, the SX Pack Flat Fire-Pit uses that same 4-part design, but instead of using a round rod grill rack, it comes with a cut grilling plate that covers half the fire pit.
Size-wise, it is about 26″ long and the steel is probably pretty substantial since the whole thing weighs 33#.
The vent holes on the bottom are both something I like, and something I don't like about it. On one hand, it gives the fire air down low, which is always and issue. The problem is that this also raises the potential of dropping hot coals on the ground.
Advertised price: $269.00
---
Pop-Up Fire Pit With Heat Shield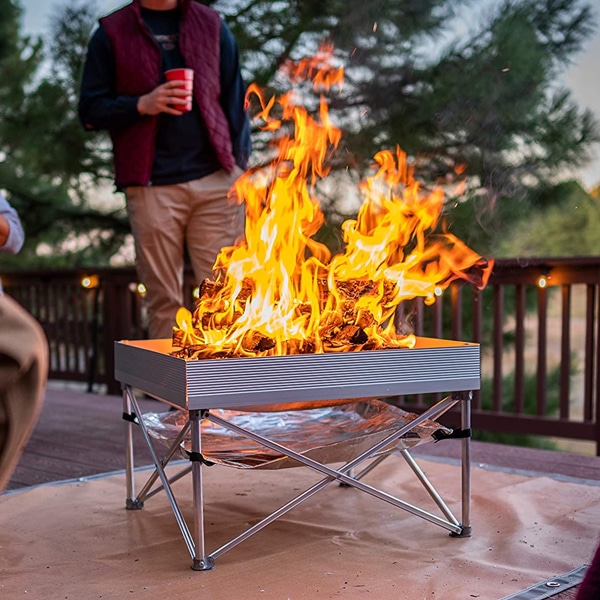 The pop-up fire pit has been all over my Amazon feed lately and I am still torn on it. On one hand, I like how compact and light it is, but at the same time building a fire on a stainless steel screen seems sketchy to me. This probably comes from my redneck roots and camping where the fires are big enough to forge steel, so I can see it burning through the stainless steel mesh that forms the bottom.
The company does say though that the screen has a "50 fire/1yr minimum guarantee" so I'm thinking eventually it will burn through, just not quickly.
That being said, it has a lot of good reviews, and the mesh bottom would allow excellent airflow. Being significantly cheaper than solid steel portable fire pits, I'm tempted to give it a try.
Advertised price: $119.00
Shop the Pop-Up Fire Pit at REI
Shop the Pop-Up Fire Pit on Amazon
---
Portable Fire Pits on Etsy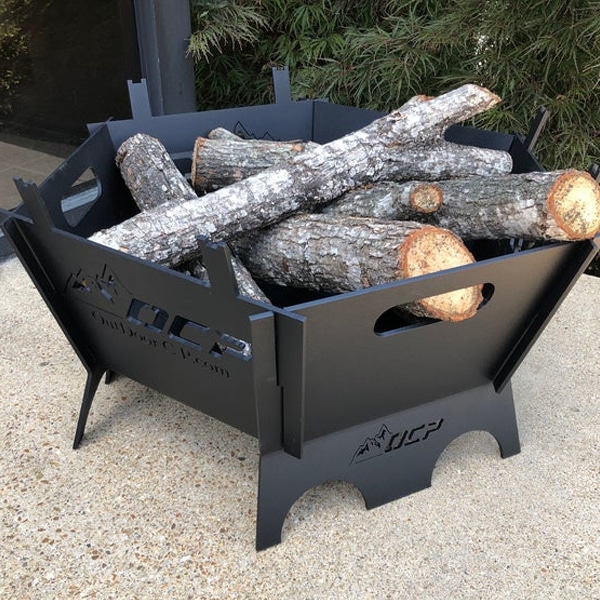 When I started looking for portable fire pits for doing the van-life thing, I must admit that I didn't expect my journey to take me Etsy of all places.
What I discovered though is that there are significant number of engineers selling patterns for portable fire pits, as well as a good number of people with CNC machines turning out portable fire pits in a staggering array of designs. The one in the image to the left from UncleBucksCamoStore might be a bit big for the van, but I like the design.
With loads of designs similar to the first two fire pits I put on this list, you might just strike gold looking for a fire pit or fire pan on Etsy. Strange huh?
Advertised price: from about $119.00 on up
---
WOLF GRIZZLY Fire Safe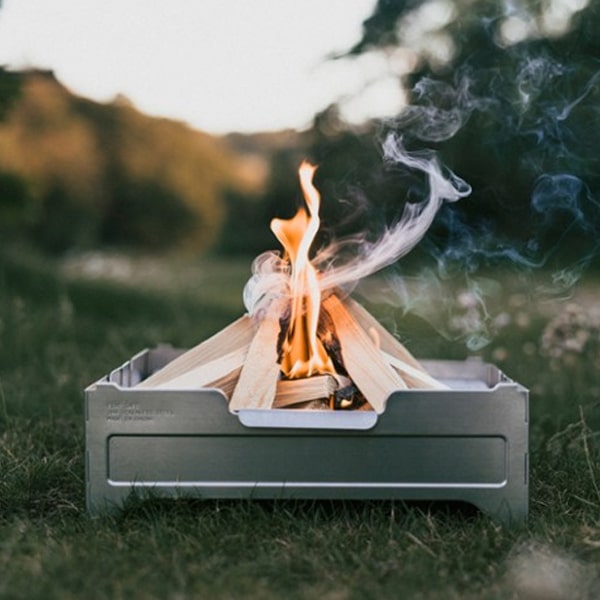 I felt like I needed to include this small fire pan from Fire Safe as it comes up in my searches quite often.
Looking at all the reviews and comments from various places online, it seems like a pretty decent fire pan. My issue for me is that it is a little small at about one square foot, putting it on par with the UCO that I'm already using. Plus it doesn't come with any kind of grate for cooking on and looks shallow enough that it would be tough to cook right on top of it anyway.
At just over 2# though, if I was packing into an area that didn't allow open fires, I might consider taking this along. I'm not sure a 1′ fire would do much to keep you warm at night, but it might brighten things up a bit and you could cook over it.
---
Fire Mats or Fire Blankets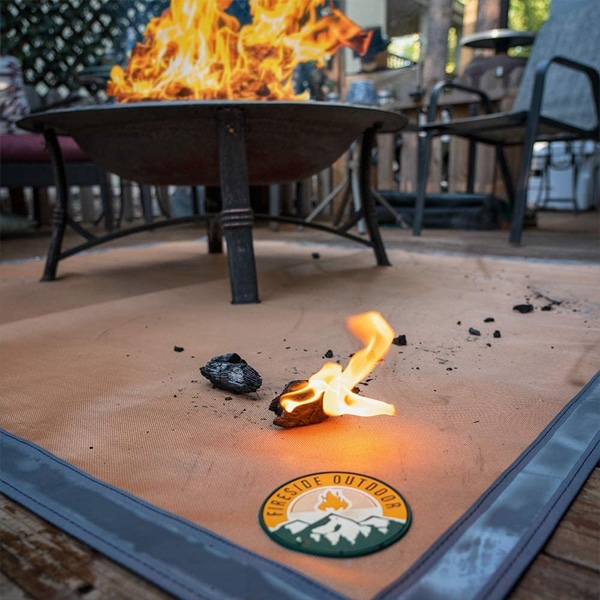 One essential thing for building a no trace fire is a way to protect the ground from embers, ash and so on. Something I only recently became aware of was fire mats. These are flame-proof mats that you can put down under your fire pit or grill to protect the ground from hot coals or staining if you are on a deck or the like. In fact, in some areas, they are required under your fire pan or fire pit.
There are plenty on the market but the Fireside Outdoor fire mat is a popular choice. Effectively what it is, is a fiberglass and silicone matt that resists the head of embers and chunks of burning wood that might fall out of your fire pit. Plus it meets all USFS & BLM fire blanket regulations, so you are good to go if you are in a sensitive environment.
Definitely not a requirement for most places, but it is something to consider in some campsites, especially later in the year when things are super dry.