If you have been wondering where to find sea glass in Washington state, I've compiled for you a list of the best beaches in Puget Sound for finding sea glass, plus other cool stuff.
To create sea glass you need and intersection of people throwing glass into the ocean, along with just the right amount of wave action to polish and buff it to a fine finish. While there is no shortage of garbage in Puget Sound, only in a few places is the wave action right to create sea glass. The following beaches are your best bets for finding good sea glass in any quantity.
Best Beaches To Find Sea Glass In Washington State
---
---
Coupeville
When it comes to finding sea glass in Puget Sound, Coupeville is a new spot on my radar. While I haven't gone hunting on the beach here, it is in the right zone to create sea glass and with a town right on the water, I can't imagine that more than a few bottles went in the water there.
Deception Pass and Rosario Beach
On top of being an awesome, if somewhat busy state part, Deception Pass state park has literally miles of beaches with great views to wander and search for sea glass.
Stradling both sides of Deception Pass, you will find gentle waves, easy to walk beaches, and of course the occasional piece of sea glass. While you can find glass on just about any spot, you may want to focus on Rosario Beach for some serious sea glass hunting.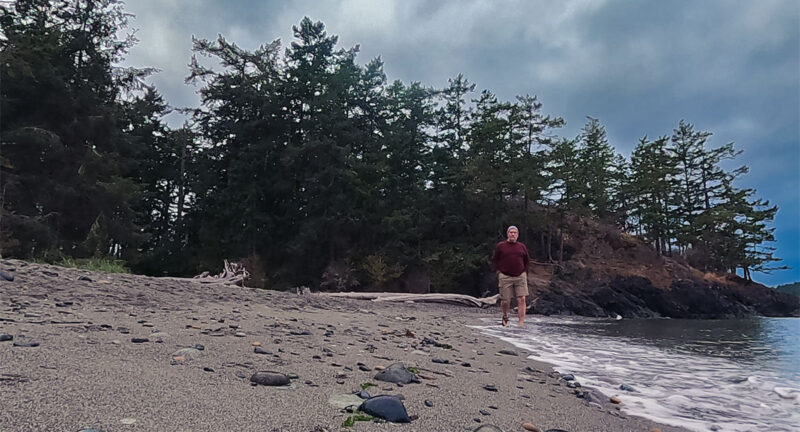 Bush Point
Whidbey Island has some very productive sea glass hunting, provided you can find any beach to comb. The issue around Bush Point is that many of the beaches are private and the locals get real pissy about you trespassing. I always thought that beaches were public land to the high water mark, but in Washington state, that is still a legally contested issue. Check out this interesting article on public lands from the Kitsap Sun.
That being said, the shore in front of the Bush Point Boat Ramp is a popular spot for sea glass hunting.
While I haven't been there yet, I would also suspect that the shore in front of the Whidbey State Park would be worth investigating as well.
---
Alki Beach
When it comes to Seattle sea glass, your best, and really only good option is the beach at Alki. Despite not having the wave action of some of the other beaches on the list, the volume of glass thrown in the water at the point make up for that.
Your biggest challenge will be getting out to West Seattle, as the West Seattle Bridge is still closed for repairs as of the start of 2022. Be sure to map it and plan ahead.
---
Ediz Hook Reserve
Ediz Hook is to Port Angeles what Glass Beach is to Port Townsend, the place where all the sea glass from the former dump has washed up. Big advantage for most people though is that you can drive to the beaches on Ediz Hook, whereas Glass Beach requires a hike.
Of course this ease of access means many more people picking over the beaches. The best time of year to go sea glass hunting on this, and most beaches honestly, is in the winter and early spring, after the winter storms have turned things over and before the crowds have swept the beaches clean.
---
Glass Beach/North Beach
Glass Beach near Port Townsend has a long reputation of being a great place to hunt sea glass. The town dump for many years was the bluff overlooking the point, and when they eventually closed it, much of the garbage was burned and pushed into the sea. Luckily back then there wasn't much plastic waste, but there was a lot of glass!
Part of the reason that glass beach is still so productive is that it is the hardest to get to of all the Washington sea glass beaches. Effectively, you have to park at the North Beach park on the edge of the Fort Worden Historical Park, and walk west for several miles to get to the good spot.
I have a whole post just about hunting sea glass at Glass Beach you will want to check out.